Hello
I am Mark West, a composer, musician and illustrator based in London.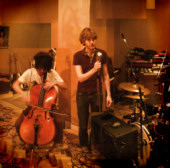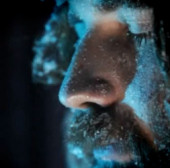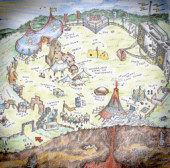 I sing, write and produce for the band The Lost Cavalry. Until 2010 I was the guitarist in the band Fanfarlo, and before that was the drummer in cult London lo-fi band Wolfie.
I have composed and produced music used in films and adverts including the score for the feature film Booked Out and commisioned work for Sony Extreme Music Library.
I have co-composed or performed on music used in adverts for Vogue, Canon Powershot and Evian and in films including 'Going The Distance', 'Win Win', 'Crazy, Stupid Love' and TV shows including 'Greys Anatomy', 'House', 'Chuck' and 'My Life as Liz'.
Please contact me if you need some music for your film or TV project, or for any other purpose! mjw@mixedcasesspaces.co.uk.
News Feed
18/1/19 : Colours
This is "Colours".
Filmed over the course of a year, in ten different countries, it's a trip around the world in one song.
The track is taken from our second album "Storms" which will be released on 9th Feb 2019 on Two Six Heave. To mark the release we will be holding a special launch show at The Lexington Kings Cross, London, UK - Tickets: www.wegottickets.com/event/457202 Facebook event: www.facebook.com/events/2197423657162544
6/1/19 : I Fell Asleep In Your Covers
This is "I Fell Asleep In Your Covers".
All video is public domain, courtesy of the Prelinger Archives and the Internet Archive https://archive.org/details/prelinger - and has been put together by Simon McIlhinney.
The track is taken from our second album "Storms" which will be released on 9th Feb 2019 on Two Six Heave. To mark the release we will be holding a special launch show at The Lexington Kings Cross, London, UK - Tickets: www.wegottickets.com/event/457202 Facebook event: www.facebook.com/events/2197423657162544
More >>
Diary
30/12/15 : 100 albums in 2015 part 5
Well I managed my 2015 aim of listening to 100 albums that I'd not listened to before! It's been good, I've heard some great stuff! Here are the last load of mini-reviews...
76. Rozi Plain - Friend This is wonderful. Pretty, delicate, light and uplifting. A really nice mix of mainly acoustic instruments with a few synths and bits and bobs, with very pretty vocals in an interesting voice that doesn't stray into annoying territory at any point. This album is definitely a gem that I will come back to many times.
77. Dry The River - Shallow Bed This is the sort of thing I expected to really like, but I don't - I maybe think it's just trying too hard, if that makes any sense? It's trying to be too grand, copying other people's styles a bit too much, without really 'getting' the styles... and it just gets irritating. I'm not a fan of the singing either really.
78. Future Islands - On The Water Pretty nice, I couldn't tell if this was old or new... turns out it's 2011. Some of it reminds me of Bowie. I quite like this, I will certainly listen to more. Update: listened twice now and like it even more.
79. Devendra Banhart - Nino Rojo I've listened to bits and bobs of Devendra Banhart before but this is the first time listening properly to a full album. I was a bit undecided, but by 'Little Yellow Spider' I started to really get into this.
80. Rasputina - Sister Kinderhook I almost didn't listen to this album after the first few seconds of it put me off - the vocal style is a bit hard to get used to, but I think I have. There's a lot of violin and cello in this album, plus some percussion and plenty of crazy vocals. I think I really like this, it's really interesting and different.
81. Kings Of Convenience - Riot On An Empty Street This is nice, like Simon And Garfunkel crossed with Belle And Sebastian. Mostly acoustic guitar and two close harmony male voices. This is the second of their albums I've listened to as I liked the other one. Some really nicely written lyrics in here too.
82. Biffy Clyro - Blackened Sky I almost stopped listening after 10 seconds but persevered... this is the sort of stuff I really dislike (and I like most things). The singing makes me cringe and the rocky guitars just sound cheesy to me, I wonder if I would have liked it if I'd heard it when I was 16.
83. Beach House - Beach House Their first album, it's definitely more basic than the more recent ones that I listened to last month. Derek (from TLC) calls this style of music 'Newverb'... he's coining the phase, pass it on :-)
84. Andy Shauf - The Bearer Of Bad News Sophie Jamieson recommended this to me, and it's great - pretty downbeat in general, lots of piano and jazz-room type hiss and atmosphere. He has a voice that's just on the right side of the boundary between interesting and annoying.
85. Scott Bradlee's Postmodern Jukebox - Top Hat On Fleek An album of cover versions, in very different styles. Sort of trying to be a bit too cool and offbeat though.
86. Johnny Flynn - Country Mile While recording at Soup last week, I asked Giles for a recommendation, and he suggested this album, recorded at Soup. I like it, he has a great voice - reminds me of Luke from Patch And The Giant in fact. Some great songs (great recording of course too!), some a bit folky for my tastes but only just!
87. Tender Prey - Organ Calzone These guys played after a Simon Love show I played at Swn Festival, and they were great. The bass player was probably the coolest bass player I've seen on stage (told him afterwards too, haha). I guess I enjoyed this more live, it's guitar and drums and bass (most but not all tracks) with great vocals from Laura Bryon, rocky, sleazy, bluesy.
88. The Rolling Stones - Exile On Main Street A great album, but I'd never listened all the way through. We covered 'Rip This Joint' in 'The Lightning Robertson Blues Injection' - a band that will one day reform I am sure! This album just rocks from start to finish.
89. Oddarrang - In Cinema Post rock from Finland, up there with Explosions In The Sky I think (and fairly similar), possibly a bit more experimental. As recommended by Derek!
90. Father John Misty - I Love You, Honeybear Recommended by Simon Love. I listened to it twice in a row. It's a strong album, pretty full-on, loud and ballsy! It's mastered pretty high, and ducks out a bit sometimes which is a bit annoying. It feels Christmassy to me, but maybe that's because it's dark and rainy outside. There's some ace strings on here and great lyrics, I like it a lot.
91. Typhoon - White Lighter From 2013. It's all very modern and cool sounding, in a way that many bands seem to be now, but in a way that I haven't quite got to grips with... I feel like I should really love it but I don't and I can't quite work out why. I think it's that feeling of trying a bit to hard, a bit like I felt with Dry The River, though this band less so. It's all a bit post-Arcade Fire but taken too far.
92. Andrew Bird - Noble Beast Derek suggested I listen to 'Anonanimal' and I loved it, so checked out the whole album. It's an absolute winner, one of the best things I've listened to this year. Amazing inventive sounds and loads of strings, sounds like a perfect mix of modern and classic. He has a lovely voice a bit like Zach from Beirit. I will definitely be listening to more...
93. The Wave Pictures - Great Big Flamingo Burning Moon This is a band I've seen live a fair few times, especially a while ago at places like The Duke Of Uke (where I bought my little ukulele!), nice upbeat, bluesy-rocky-indie-pop with good lyrics. There seems to be a guitar solo in every song.
94. My Sad Captains - Best Of Times I've not listened to our old friends My Sad Captains for a bit - but this, their latest album from last year is beautiful - it has a really magical feel to it, but with a proper solid groove... 'Hardly There' is a toe-tapping, controlled masterpiece. https://open.spotify.com/album/0S2VedaI3A0THKcKWHb90m
95. Throwing Muses - In A Doghouse Recommended by Simon our bassist. I should have listened to this back when I was in the band Wolfie (where I played drums). A good band to know more about, but not the kind of thing I'll get too excited about.
96. Captain Beefheart - Trout Mask Replica This was just about the first album recommended to me - again by Simon our bassist. I've finally listened to it... and wow there's a lot to hear! I was pre-warned that it was an intense, deliberately and carefully shambolic assault on the ears! The first track (of a whole load of short ones, with loads of strange soundbite clips in between) sounds like the band falling down the stairs while playing. It's great though - I think one thing I've been thinking recently is that music isn't really worthwhile unless it's interesting... which may sound obvious, but maybe being interesting is the most important thing. This album is definitely a call to be braver in our songs and recordings (not that we're going to go as far as The Captain does here!)
97. Joan Armatrading - To The Limit Recommended by my good friend Jenny. Recorded in the year I was born. It's jazzy blues, some more rocky (some good Hammond here!). Some tracks like 'Bottom To The Top' get into some kind of reggae jazz territory. Some of the more soulful stuff is great, and all of it is pretty great!
98. Matthew E White - Fresh Blood Released this year. Nice to wrap Christmas presents too - a very close-to-the-mic vocal, nice and deep and warm.
99. Quantic - Magnetica I heard one track at a friend's and liked it - I think Quantic seems to be a very wide mixture of styles though - with loads of different guests on each album. Some of the tracks on 'Magnetica' are great, especially the mariachi trumpet, or latin carnival style ones. Some of the dub ones aren't my thing. I like the weirdly timed electronic drums on some of these tracks too, but it's the latin style ones that are really good.
100. Electric Light Orchestra - Out Of The Blue Wow, I reached 100 albums in one year! This one was a Christmas present. The tracks that I already knew from their 'best of' are indeed the best ('Sweet Talkin' Woman' and 'Mr. Blue Sky'), plus 'Wild West Hero', a favourite of mine from a mix tape once given to me by an old friend back when we were at school! A whole load of other great tracks on here too, and truely an awesome album to finish my 100 with!
1/10/15 : 100 albums in 2015 part 4
50. The Beach Boys - Sunflower This seems like more of a straigh forward pop album, it hasn't grown on me that much yet - maybe some more listens. 'Tears In The Morning' I love, and 'Cool, Cool Water' is great... "In an ocean or in a glass, cool water is such a gas".
51. The Mohawks - The Champ From 1967, the album with the well known (and well sampled) lead track 'The Champ'. This was a band made up of session musicians lead by Alan Hawkshaw - who actually wrote the theme tunes to Countdown and Grange Hill... amazing facts for you there! It's an absolutely top album with so much great organ playing... I'd love to be as good as this one day. https://open.spotify.com/album/3pGcOHzTqnfQiDZNaIyqYN
52. Art Garfunkle - Fate For Breakfast Hmmm, bit of a hit-and-miss album from Uncle McFunkle. His 4th solo album, this is the re-release with 'Bright Eyes' added onto it at the start of side two. They're mostly covers I think - 'Since I Don't Have You' (which I admit I know because of Guns'n'Roses) is a great one. But some of the other tracks are a nasty attempt at funk-soul, with all the funk and most of the soul missing. I'd probably write 'Art Garfunkless' if I were a clever reviewer.
53. Shpongle - Ineffable Mysteries From Shpongleland The second of their albums I've listened to, and also nice to listen to while working. There's a lot of trippy stuff in here, and the whole thing reminds me of Boom festival and makes me look forward to next year!
54. Al Di Meola Project - Soaring Through A Dream This is obviously a very serious album (you can tell by his piercing gaze on the cover) but it's very hard to take seriously with the 80's reverby synths. It is quite pretty though.
55. Saturday Sun - Orixe I listened to this on their Soundcloud page: https://soundcloud.com/saturdaysun/sets/orix-1 It's got hints of Radiohead in it and a powerful vocal. It's probably a bit more angsty than the sort of style I'm in to at the moment, but some nice stuff in here and well worth a listen.
56. The Pasadena Roof Orchestra - Everything Stops For Tea A vinyl double album from the 80's but entirely 20's themed. Nice and chirpy and upbeat, makes me want to watch Jeeves And Wooster.
57. Talk Talk - Spirit Of Eden I'm not sure what I was expecting from Talk Talk, but this wasn't it. I didn't realise they were around in the 80's either, this is from 1988. It's kinda nice, but also sounds a bit dated now I think.
58. Keston Cobblers' Club - Wildfire Obviously I'm a bit biased, but the second full album from Keston Cobblers' Club is really pretty amazing - packed with incredibly strong songs and great performances. I hope it gets the attention it deserves... which would be to catapult the band into stardom! 'Contrails' is wistful and lovely, 'Wildfire' is powerful, strong and driving. I think my favourite so far might be 'St. Tropez' with a lovely catchy vocal line, beautiful harmonies, interesting blippy synth and skittery drums. It's a really strong second album, a step forward from the first in all the important ways without loosing the charm that makes Keston Cobblers' Club so rewarding to listen to.
59. The Travelling Wilbury's - Vol. 1 We covered 'Handle With Care' in Simon Love's band, I did the Roy Orbison bit. I admit I hadn't realised before then who The Traveling Wilburys were really, a super group of George Harrison, Jeff Lynne (from ELO), Tom Petty, Roy Orbison and Bob Dylan. This is their first of two albums (despite their second album being called 'Vol. 3') and is really good, probably reminding me of ELO mainly.
60. American Music Club - Everclear From 1991, and I'm not sure how this album ended up on my phone or who gave it to me! But it's nice - a bit like early The National, or like Tindersticks maybe. Some pretty deep and serious lyrics and clanky powerful guitars and drums. I'll certainly listen again.
61. The Wedding Present - George Best Their first album, from 1987. It's jangly guitar indie pop, lots of energy.
62. Arthur And Martha - Navigation This was in the CDs Jonny gave to me, and I'd not realised until I started to listen that it's by my friend Alice Hubley, I assume a precursor to her band Cosines. It's really nice - pretty, upbeat, poppy, electronic music. A bit of guitar sometimes, but otherwise all analogue synths and drum machines.
63. Leonard Cohen - Songs Of Leonard Cohen This is something I should have listened to a long time ago, and I think it's going to be the start of a bit of a love affair! It also makes me realise that the REM song 'Hope' (that has been an inspiration to me), from the album 'Up' is very similar to 'Suzanne'... and in fact, looking at the credits from 'Up', it does actually credit that track to "Leonard Cohen, Buck, Mills, Stipe". I often write new lyrics by writing temporary 'new verses' to a song that is stuck in my head - then write new melodies to those lyrics later.
64. Curtis Mayfield - Move On Up - The Singles 1970-90 This is a compilation of course, but I'll make an exception for this one. There are some incredible songs on here, more listens will no doubt let me know which ones are the real gems! There are also some more (I think the 80's ones) that are kinda dull and slow and trying to be too sexy for their own good, I'll stick to the 70's ones.
65. Felt - Absolute Classic Masterpieces From 1979-1985 a collection of Felt tracks. It's not a singles collection, a lot of the tracks are certainly album tracks, so this actually fits together pretty well as an album. The vocals sound a lot like Roxy Music, but this is a band that inspired a lot of other bands. Interesting for me (as I'm a fan) is that this was Martin Duffy's first band, who later went on to play Keyboards in Primal Scream. I just found out that he played with The Charlatans too after Rob died, including on the album Tellin' Stories, which is one of my main influences for organ playing!
66. Beirut - March Of The Zapotec and Realpeople: Holland Since I'm going to see them play next week I thought I'd best catch up on the recordings I'd missed! This is a nice album made up of two EPs, one more brassy and acoustic, one more electronic. They actually fit together ok and some nice bits on here.
67. Beirut - No No No The new album - on first listen I wasn't bowled over by it (I think part of the problem is that nothing ever comes close to the amazing 'Nantes', one of my all-time top songs!) but after a few more listens I'm starting to really like it. Maybe some songs that feel a bit like filler, but a bunch of great ones too.
68. Sigur Ros - Ágætis Byrjun Considering how much I love this band, I'd never listened to this album - though I know many of the songs from live shows. It's great of course, and always inspiring - just makes me want to go and write and record and be a better musician!
69. DeVotchKa - 100 Lovers Their most recent album, from 2011. I loved their soundtrack to 'Little Miss Sunshine', the main inspiration for our sound track to the film 'Booked Out' (which you should all watch by the way! http://www.bookedoutfilm.com). This album is nice.
70. The Smiths - God Save The Queen I listened to this in the car with Simon Love and co on the way up to Manchester for a gig. I'd not realised it's from as early as 1986. I've never been a fan, but had also not paid proper attention to a whole album I guess. It's good to listen properly to the expertly written lyrics. The music I'm not so much of a fan of, kinda plods along, a bit jangly and annoying. So probably overall what I expected from The Smiths and I'm still not a big fan.
71. The Beatles - The White Album This is a looooong album!
72. The Beatles - Abbey Road This is my favourite of the Beatles albums I've heard so far - it feels a bit more complete, mature and together than some of the others. 'I Want You (She's So Heavy)' I really like - a big fan of this one. And tracks like 'Come Together' and 'Here Comes The Sun' are obviously classics.
73. Beach House - Depression Cherry Washed in reverb and nice and warm and magical feeling, good for a cold afternoon in...
74. Beach House - Bloom So I listened to another album too, just as nice. They didn't catch my attention loads - as-in I can't remember how any of the songs went, despite having just listened to them (apart from the last one... 'Irene'), but the overall mood and feel is really pretty and soothing and I like it.
75. Tame Impala - Currents This is another reverb-drenched and warm album, more dancy than Beach House. I think I like it in general... Some of the tracks are kinda annoying, like 'Past Life', which sounds like someone excited about the new flanger effect they just bought. And ''Cause I'm A Man' is awful, unless it's a joke, which I don't think it is?
26/7/15 : 100 albums in 2015 part 3
So, one of my new year resolutions for 2015 is to listen to 100 albums that I'd not listened to before... of various styles, some recommended, some randomly found. Here are the next 20!
30. Biff Rose - The Thorn in Mrs. Rose's Side Simon Love has given me a load of recommended albums to listen to while on my travels - this one is from 1968 and is mainly Biff Rose and his piano. There's a lot of brilliant humorous lyrics here, delivered with perfect comic timing. Loads of little quirks. There's three live bonus tracks here not included on the album proper, including 'Shell Of A Man'... "He's just a shell of a man, but if you hold him to your ear you can hear the ocean roar" - brilliant! http://en.wikipedia.org/wiki/The_Thorn_in_Mrs._Rose%27s_Side
31. The Lovin' Spoonful - Hums of the Lovin' Spoonful At first I assumed this was a compilation album, until I looked it up on Wikipedia to find that it's their third album from 1966, deliberately made up of songs of different styles. This does make it a little incoherent, but (now on my third listen) the songs are all really strong and I start to like the variety. 'Summer In The City' is on here too, as the closing track. It's an interesting idea to deliberately try to record an album of different styles, they all still manage to sound like tracks by the same band of course. In The Lost Cavalry we often worry that new tracks we come up with don't sound 'like us', but they always end up doing so anyway!
32. The Beatles - Revolver Right! Time to address probably the biggest hole in my musical knowledge... The Beatles. I've heard their singles so many times undeliberately (that's not a word, but it's what I mean - I've heard them without deliberately going out to listen to them) that it's hard to tell how much I like them. as they're just 'there', and are also mixed up in my head with bad cover versions and karaoke. So, time to listen to The Beatles properly... starting with Revolver. It's nice to listen to an album through and hear new tracks. Yellow Submarine sounds a bit out of place (though it's certainly catchy!), I'd not realised it was on this album first before being re-released for the film. I love the really diverse instrumentation - with 'Got To Get You Into My Life' using just horns and 'Eleanor Rigby' using just strings for example. The drums and drones on 'Tomorrow Never Knows' and 'Love You Too' are awesome. Yep - a good start!
33. The Beatles - Magical Mystery Tour I chose this album next as it's from the year after Revolver. It's a lot more experimental and psychedelic and was released in the same year as Sgt Pepper. It's not as punchy as Revolver, but there's some powerful songs on here of course - like 'Strawberry Fields Forever', 'Penny Lane' and 'All You Need Is Love'. It's good to listen to these properly, as I already knew really, they're pretty amazing. My Beatles discovery process is going well.
34. Squarepusher - Damogen Furies My first proper listen to Squarepusher, someone I know has influenced my (solo) music already, via other artists I like who were themselves influenced by him. There's a cool 360 degree video to the first track too using youtube's new 360 videos thing. Second track 'Baltang Ort' has blown me away, can't wait to listen to this loud on my proper studio speakers! I'm not really sure how a human mind can come up with this sort of complexity. Some of it is pretty hard to cope with, it's all pretty intense, but overall it's still got enough melody and rhythm to latch on to and not get too lost!
35. Okkervil River - The Stage Names As recommended by our bassist Simon - and a good recommendation, he knows me well! I think this is a band I am going to become a really big fan of, it's just my kind of thing. I love the little segue into the Beach Boy's 'Sloop John B' at the end of the album, one of my favourite songs.
36. The Beach Boys - Love You I listened to a great 6-hour Beach Boys documentary from the 70's on Radio 4 recently (with Bob Harris) and this album was mentioned, almost a Brian Wilson solo album from his rehab in 1977. It's got loads of synths on it (analogue of course), used very prominently and generally as the bassline, which wikipedia says was a big influence on synth pop. 'Solar System' is nice, I bet Michael Stipe was listening to this when he wrote half of Reveal. This is a really nice album.
37. Bjork - Vespertine One of the few Bjork albums I'd not listened to before. And I'm listening to it on a train in Indonesia looking out onto the most amazing views of mountains and rice fields. It's a beautiful album, more gentle than other recent albums. Full of love and plenty of chiming instruments, that I'm a big fan of. Second track "Undo" is especially nice, beautiful vocals and gradually building layers.
38. The Velvet Underground I know "Loaded" well after covering it in a band with Simon Love and co. as 'The Flowers Of Evil Mothers'. Loads of top lyrics here of course, and experimental stuff, more so than Loaded. 'Murder Mystery' is pretty interesting... makes me think of Slint. 'Pale Blue Eyes' is great, as is 'Candy Says', both really mellow and relaxing.
39. The Beach Boys - Surf's Up Wow, this is a truely great album, and shows the Beach Boys to be far more than just Brian Wilson, who only wrote a third of the tracks on the album (including 'Surf's Up' itself, which is the last track - and the most beautiful). It's a grown-up Beach Boys album, with plenty of melancholy and lyrics about getting older.
40. Bob Dylan - Highway 61 Revisited Starting with the epic 'Like A Rolling Stone'. Love how Bob's verses and choruses are all weird lengths, lasting just as long as they need to until he's sung all the words he needs to for that verse. And then with some mouth organ for a while. Many of the lyrics make no sense and on some tracks the guitar isn't at all in tune, but he's a genius and this is great.
41. Bruce Springsteen - Born To Run I think this album kind of washed over me a bit... The first half seemed better, then after 'Born To Run' itself in the middle (great track) there were a couple of less impressive tracks, then the epic (long...) 'Jungleland' at the end with an unnecessarily long sax solo. Probably a great album but probably not my thing.
42. Carole King - Tapestry So many amazing hits on this beautiful album, I'm so glad I listened to it. Every song is a gem, though 'Way Over Yonder' sounds a lot like 'Love Letters Straight To Your Heart' and someone let a sax player do a solo on it. 'I Feel The Earth Move' is so energetic and powerful, and 'It's Too Late', 'Will You Love Me', 'A Natural Woman' and 'You've Got A Friend' are on here too, perfect songs. I'm so glad I listened to this album!
43. Acker Bilk And His Clarinet - Sheer Magic No less that twenty classic hits 'As advertised on TV and Radio!' including 'Wichita Linesman', 'You've Lost That Loving Feeling' and 'What A Wonderful World' on lovely 12" vinyl, all performed instrumentally by Acker Bilk on clarinet. It's really nice to listen to while working and reminds me of being at my grandparent's years ago.
44. Blur - The Magic whip The new Blur album - I'm not sure how often I'm going to come back to it, though it is a pretty decent album I think. The first track 'Lonesome Street' is incredibly hard to get out of your head... it was stuck in there for days. I've had a couple of listens to the album and will again to see how it grows on me.
45. Dr Cosmo's Tape Lab - Beyond The Silver Sea A new album, but firmly in the style of the 60's/70's. In between each track is a narrated story, a really nice one about a character trapped in a brainwashed world trying to escape past it (and past Dr Magnatron!) to beyond the Silver Sea. Most of the tracks are pretty upbeat and poppy (and some are almost Chaz and Dave) but I'm more of a fan of the slower ones like 'The Mirrors Reflection'.
46. Tom Waits - Alice I wasn't entirely sure what to expect but I loved this. Such an incredible growl. I chose one of this albums at random, this one it turns out consists of songs mostly written for a play called 'Alice'. It alternates between a quieter pretty song, then a louder more raucous one. Some of the pretty ones like 'Flowers Grave' and 'Alice' itself are really nice.
47. Geoff Love And His Ragtime Band - Ragtime With Love Another old 12" passed on to me - and this one is an absolute treat! From 1974, all instrumental ragtime classics, including 'The Entertainer'. This sort of music is just so lively and fun it's impossible not to like. The first track 'Bugle Call Rag' is especially fun.
48. The Beach Boys - Smiley Smile I thought I'd indulge myself in some more Beach Boys albums I'd not listened to yet. Smiley Smile (being the album built from the unfinished 'Smile' album, intended as the follow up to Pet Sounds) is great but a lot more experimental and often silly than I expected it to be - I'm a little addicted to 'Heroes And Villans' at the moment though, and no doubt further listens to this album will uncover more amazing ideas.
49. The Beach Boys - Wild Honey A bit more straight-forward than Smiley Smile and Pet Sounds, and I guess a bit more middle of the road. Still some great moments, including 'Darlin'.
More >>