Amateur Dramatics
My first acting role was as an ant when I was about 5. I also once had a role in a school play as a tree. So - I didn't get of to a great start really. Apart from nativity plays at school, the first real play I was in was called 'The Recycling Of Oscar' where I played 'George', the hero of this rhyming and cleverly written play, by one of my teachers. After that, I didn't do anything remotely like acting until...
In 2004 I joined The Beaufort Players drama group, based in Ealing, London. At first I helped out backstage for the pantomime 'Arabian Knights', before taking a lead role in the next production 'And Then There Were None' by Agatha Christie. I played Captain Lombard in this brilliant 3-act murder mystery. The action takes place on a remote island, where ten guests are called together by a mysterious host, only to be killed one at a time in various ways... The play was a huge success and very good fun to be a part of.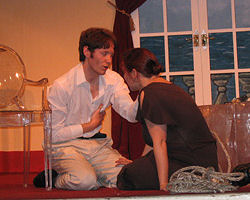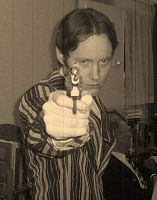 My second stage performance with the group was a 'Drone' in Alan Robinson's fantastically funny short play 'Quite A Buzz'. This was it's first ever performance, and we originally staged it as part of a comedy night at the Beaufort Player's hall in Ealing. Since then we have performed it many more times all over the South East of England as part of the All England Theatre Group annual competition. We were very pleased to get as far as the semi-final in St Albarns.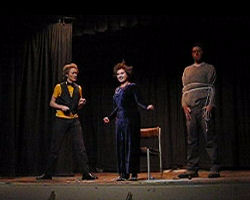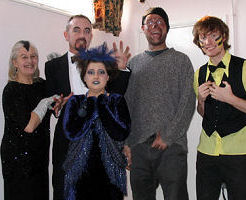 In spring 2006 I took part in another main presentation by the Beaufort Players - 'Outside Edge' by Richard Harris. This cricket-based play called for me to bring out my nastier side as the terrible, big-headed lawyer 'Alex'. This was another fantastic play to be part of and it was a shame when it was all over.