The enthralling story of Mark West's musical life, from my first band through to recent times... thanks to all the guys who I've been in bands with in the past - hope you're doing well with your current musical projects!
1995 and earlier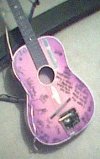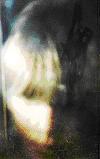 I first picked up a guitar when I was about 10 and I was taught 'She'll be coming round the mountain' by my 5th year school teacher using only the chord of 'G'. I then taught myself a few more chords and played at school and at church in the folk groups, playing all the classic Christian hits.
What I really wanted however was an electric guitar, and after almost a year of saving my pocket money for the £79.95 Encore from Argos, my parents took pity on me and bought me a black second-hand 'Satelite' Les Paul copy... so I did the only decent thing a 14 year old boy could do, and learned to play 'Sweet Child O' Mine' (except for the fast bit at the end of course).
When I was about 16 I was very generously given the nice 'Daion' electric that I still use now by Paul Taylor who I played with in the folk group (eternally grateful Paul!), and decided it was about time to start a band with my friend James Warren, who introduced me to his drum playing friend Dave Roberts... we needed a name of course, and since we were all Hendrix fans 'Imij' seemed like a good idea at the time. We played a few times in my parents' living room, learning some Reef and Radiohead covers, and recorded some of them on my Dad's Akai spool-to-spool.

Imij: High And Dry (Radiohead cover) (99KB|33secs) (short sample) My first ever recording of my first ever band.
1995-1996: Delirium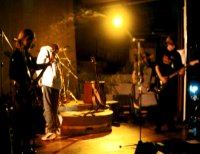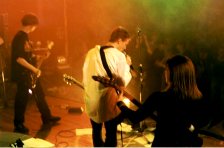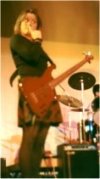 Imij turned into Delirium, with the addition of Eleanor Stoney on bass, and later Anna Scriven on second guitar and mandolin. We practiced after school in the music huts, learning covers of songs by groups like Manics, Radiohead, Reef, REM, Pearl Jam, Extreme and Terrorvision, basically all the bands we liked at the time.



At the start of 1996 we arranged our first gig - a musical event the likes of which had never been seen before... at least not in St Bedes school hall. On the last Friday of term we took over the hall and played the hottest, sweatiest and still one of the most fun gigs I've ever done. For 40 minutes at lunch time we had two hundred or so school-uniformed St Bede-ers moshing and singing along. Brilliant!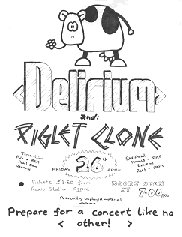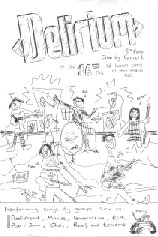 After the success of our first gig, we aimed higher for the second - an after school event a couple of months later with tickets and support from another school band, 'Piglet Clone'. This time without Anna, we added some new songs to our set including the ever-popular 'Creep' by Radiohead, and an early version of 'Enough Time', the first of my own songs that I ever sung live. Dave Hounslow helped us out with some additional guitar on some songs and a guy called Ed played trumpet for us on 'Pretend Best Friend'. The short-lived superband that were Delirium went out in style at the end of gig number two, with a loud 'It's the End Of The World As We Know It (and I feel fine)' by REM.

Delirium: Naked (Reef cover) (80KB|27secs) (short sample) One of the first songs I ever played in a band.


Delirium: Pretend Best Friend (Terrorvision cover) (83KB|28secs) (short sample) Recorded live in St. Bedes school hall!
1996-1997: Jove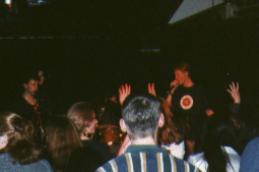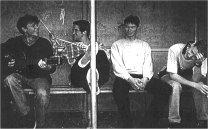 Eleanor's brother, Mark Stoney helped us out with the sound at our second Delirium gig, and afterwards asked me to sing in his new band, 'Juniper', which was soon renamed to 'Jove' (so that when we were famous, DJs would have to say "here's the new song, by Jove").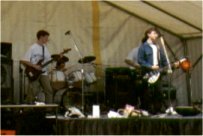 The band was made up of Mark Stoney playing guitar and sharing vocal duties with me, my good friend Dom Saville on drums and the multi-tallented Scott on piano and guitar. Practicing (strangely) in a church in Caterham-on-the-Hill we worked on our own songs, almost exclusively written by Mark Stoney, and after a few months built up a good set of songs, including a few covers by Radiohead and Blur to keep the audience happy.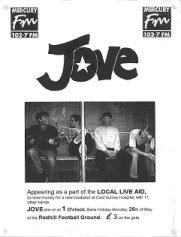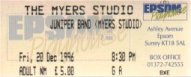 After a few good gigs, including at the Myers Studio at The Epsom Playhouse and at The Cavern Club in London, we recorded some tracks at Lionheart Studios in Redhill. By this time a bit of a re-shuffle had taken place, with an increasingly confident Mark Stoney moving on to singing more and me moving mainly on to lead guitar. Our last performance was the outdoor 'Local Live Aid' gig at Redhill football ground and soon after that the band to split. It was fun and good practice playing guitar live and playing songs that weren't covers. You might be able to find some of Mark Stoney's current music here at www.stoney.mu.

Jove: Red And Yellow You (154KB|52secs) (short sample) Recorded at Lionheart studios. Song by Mark Stoney and Jove.


Jove: Body Mind And Soul (142KB|48secs) (short sample)
Recorded live. Song by Mark Stoney and Jove.
1997: The Love Yo-Yos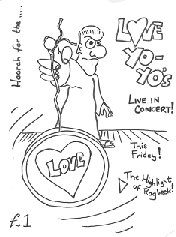 Back at St Bedes school, for one gig only, a new incarnation of The Love Yo-Yos was about to be born. A school tradition of a lunch-time gig on the last day of the charity Rag Week, performed by the current sixth form coming together to form a band known as The Love Yo-Yos saw me back with James Warren, Dave Roberts and Eleanor Stoney along with Charles Pusey, James Lunn, Helen Wollescroft, Neil Tarrant, Ed Dymott and assorted others including the great 'Jelly Belly' Spooner himself.
Highlights of this covers-only gig included 'Breathe' by The Prodigy with me on scarey vocals, 'A Design For Life' from the then-new Manic Street Preachers album again with me on vocals, James Warrens vocal debut with 'The Changing Man' by Paul Weller and as a finale, The Spice Girls with 'Wannabe'... unfortunately performed by James, Ed, James Lunn, Neil and myself in dangerously short skirts.

The love yo-yos: Breathe (Prodigy cover) (177KB|1.00min) (short sample) Recorded live.


The love yo-yos: A Design For Life (Manics cover) (305KB|1.44min) (short sample) Recorded live.
1998-2001: Amber
The first year of Warwick University was where it all really got going! Somewhere in the start of 1998 my hallmate Andy Beard (not his real name, in fact for most of the time I knew him he didn't even have a beard) told me that the band that he was starting with some other guys from the Westwood campus where we lived were looking for a singer. The band had already started playing together (possibly under the provisional name 'Hairstorm?' but with me added to the lineup we became 'Amber'... just because we thought it was a good word.


So the first lineup of Amber consisted of Nick Goold on guitar, John Green on Keyboards, Anna Starkey on drums, Matt Storr on bass, Andy 'Beard' Harvey on lead guitar and me on vocals and extra guitar bits. We joined Warwick BandSoc and practiced in the Students Union, up on the top floor in 'Zippys', writing our own songs and learning a few covers. The first song we wrote was 'Trying To Listen' - Nick played the chords and I sang random words over the top to get a melody, and then I wrote some real words to fit in later on. We recorded the song for the 'BandSoc CD' compilation at the end of the first year of Uni, and played our first gig (organised by ourselves!) in the Westwood restaurant to a suprisingly decent sized crowd.



Over the next year or two we played some gigs in the University and a few elsewhere (including a strange paid gig in Coventry City centre on a temporary stage over the fountain!) and a gig in Andy's old school in Bournmouth. Our friend Chris Mansfield had taken over drumming duties, mainly due to Annas busy schedule, but then some time in the second year Adrian Dunlop was drafted in to become Ambers permanent drummer.
Using my new 8-track recorder (student loan!) we recorded our first demo - the 'Driving EP', with 5 tracks and a live version of 'Often'. John and I stayed late into the night at the end of the Christmas term to get the artwork finished. It featured my dismantled Korg Pandoras box on the cover, broken after an on-stage beer spillage incident. At the start of the third year of Uni Matt Storr left the band and was replaced with the legendary Simon McIlhinney on bass, and not long after Andy Beard also left to concentrate on his degree. This left the final and main Amber lineup of Nick, John, Adrian, Simon and I.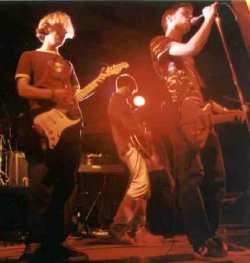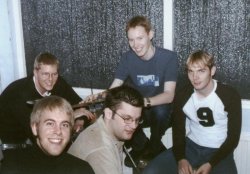 By the 4th year of Uni in 1999/2000 we were really pretty good and were playing headline sets at big Uni events (technically once to thousands of people, although I doubt most of them were listening!). We won the Warwick Battle Of The Bands and got into the quater finals of the National Student Music Awards. We also recorded our new tracks which along with the five from the Driving EP made up our full-length album 'What You Make It'. You can download the whole album for free from the downloads section of mixedcasesspaces, it's well worth a listen! We got on really well as a group, we were good friends, we knew how to work together properly and I can honestly say that I can't imagine enjoying being in a band more than I enjoyed being in Amber in the 4th year.
Stream or download the 2020 remaster of the album on Bandcamp.
1998-present: Mixedcases

At the same time as playing and recording with Amber, I spend a lot of time locked away learning how to make strange noises from all the keyboards and drum machines I has spent most of my student loans on, and the product of this was my first solo album containing a mixture of dancey, mellow and atmospheric songs bunched together onto an album I called 'mixedcasesspaces'. This is an album that represents my recording learning process - from the first song I recorded properly ('Room 204'), and the first song I ever wrote ('Price Of A Stamp') through trying out various styles and mixes of ideas. It was important in shaping where I have ended up currently, and it's still an album I'm very fond of!
I recorded a themed album in 2006 (called '2006') where I set myself the task of recording a new song every month, with the lyrics representing my thoughts at the time, and over the years I've carried on recording quite dancey songs under the name Mixedcases and finally released a third Mixedcases album in 2020... "Lost In The 8-Track".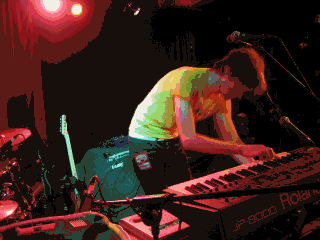 I've also played a few live solo gigs since 2007 as Mixedcases, including for Fortuna Pop and White Heat. You can listen to all three of these solo Mixedcases albums here on my bandcamp page.
2002-present: Meissner

In the final months of Uni and for a few months afterwards, John Green, Nick Goold and I wrote and recorded a new album, with some guest appearances from friends. Largely instrumental, and mostly relaxing and atmospheric, but with a few noisy parts, it was an album that grew totally out of the recording process - when we started each track we didn't really know how it would end up. We would record some drums and chords, then think about what we could add next and keep doing that until a song emerged. This resulted in a really interesting album, with some very good parts (and some dodgy parts of course!). We called it 'A Little Knowledge Is A Dangerous Thing' and you can download it all for free from the downloads section of this web site.
Since 'A Little Knowledge Is A Dangerous Thing' Nick, John and I have continued recording on and off, while some have evolved into full-band Lost Cavalry songs. Plans are for a second Meissner album one day...
2003-2008: The Lightnin' Robertson Blues Injection

And then there was the Blues... Turning my hand to trying to be a keyboard player, myself, Dave Roberts (formerly of 'Delirium'!), Neil Tarrant (Ex-Love Yo Yos Spice girl!) and Oliver Whitehead and Sam Gardiner who I knew from work started up the legendary Lightnin' Robertson Blues Injection. Legendary, partly due to only ever playing one gig, to ten people in my parents living room. I think it was the sort of gig that you had to be a true fan of The Blues to understand. If you think you are brave enough, check out the Blues Injection mini-site for more info and a few snippets of the ultra-rare live mp3 recordings!

Lightnin' Robertson: Born Blind (935KB|1.08mins) (short sample) Live recording of The Injection paying tribute to Sonny Boy Williamson II.
2004-2005: The Consumers/Static Motion

In 2004 I joined two new London bands as the guitarist and one as synth/electronics player - firstly, Jon Sheehans group 'Static Motion', playing guitar for him at gigs around London (Infinity, Hope and Anchor etc). At the end of the year the name was changed to 'The Consumers' and we played some more gigs under this name until Jon became too busy as his other band 'burningpilot' began to take off. I spent some time recording guitar parts and mixing my own versions of the songs too, which should eventually be posted up somewhere... maybe one day.
Original website for The Consumers
2004: Polar Protocol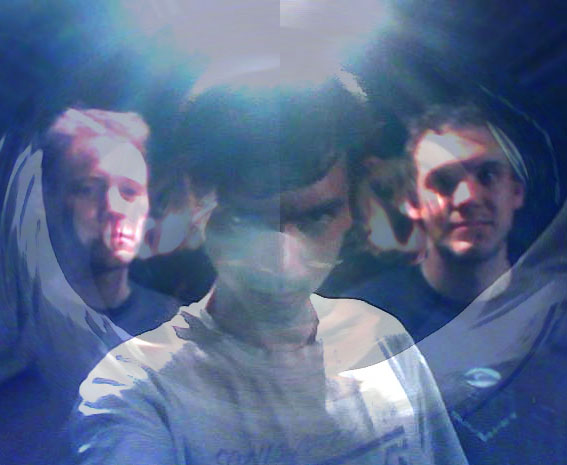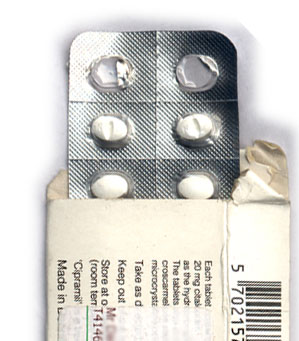 Briefly I was in a band called Polar Protocol - atmospheric moody and cool - I recall sitting at the back mainly operating a sampler and drum machine, and adding electronic noises. I'm not sure we ever played any live shows (?) but we recorded some great demos, mainly the work of Dave the band leader with my electronic parts added.
2004-2005: D'Silva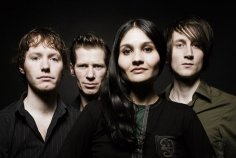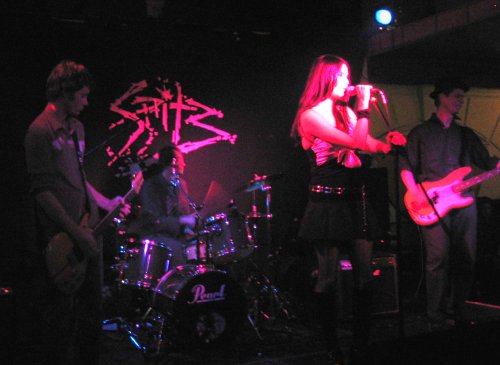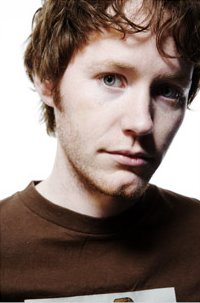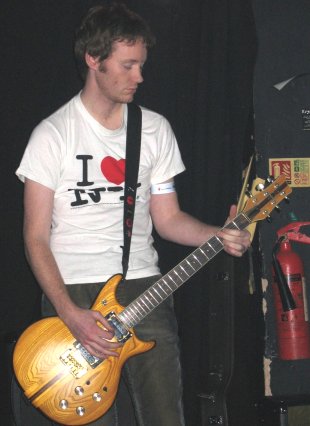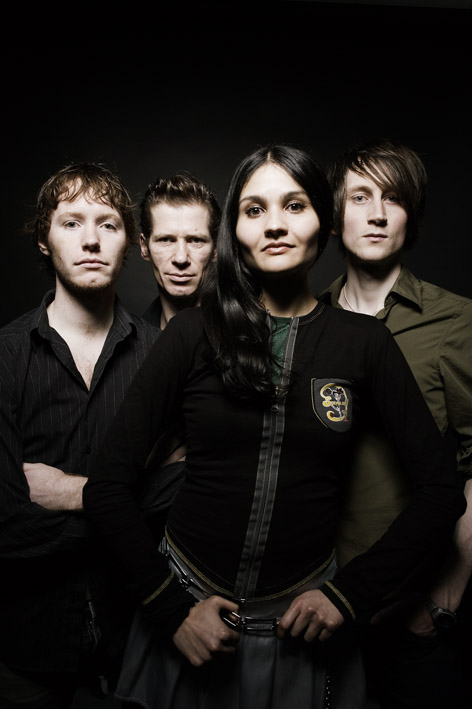 The second band I joined in 2004 was 'D'Silva', with Ruth D'Silva on vocals and writing the songs. Again I played guitar, but after five successful gigs at venues like the Hope and Anchor, the Dublin Castle and The Spitz, the band was split in May 2005.

D'Silva: I Tried (live demo).


D'Silva: Love Failed (live demo).


D'Silva: Until You Dream (live demo).
2005-2006: Ida Jacobsson

For a while I played some acoustic gigs around London with Swedish singer Ida Jacobsson. We recorded some demos together with Ida singing and playing her songs while I added some additional guitar parts and some backing vocals. Gigging was fun and times were good! Since then Ida has formed the band We Walk On Ice (Facebook link here) and in April 2010 The Lost Cavalry and We Walk On Ice recorded a song together for the Eardrums Pop label - Which can be downloaded here.
2005-2007: Wolfie
'How's Wolfie?' 'WOLFIE's fine honey' - anyone want to join a band? I heard a rumour that they did....We are 4. We live in the big smoke of London but we are not from there. Mark plays drums and sometimes sings a little bit like in the background and stuff but still loud I mean you can hear him, he fiddles with other things like a machine with lights on that goes twinka twinka do like a cybourg but only occasionally, Gemma and Cesca sing, la la de la da aaaaaaaaah Gemma would like to play more instruments but she's rubbish, Cesca plays guitar too glang glang glang gurrrrrr lang a lang a lang, Ilana plays bass bon bon bon bon bon bon bon bon bon burrrrrr!



I met Gemma, Cesca, Ilana and Tim via the message board of the club White Heat. Someone called Wolfie wanted to start a band and we were all up for it, then Wolfie himself vanished and the five of us decided to start a band anyway. We practiced hard and played a total of 31 gigs around London plus a few in Manchester, Bath and Brighton. We supported some great bands - Awesome Color, Cleckhuddersfax, Snow White, ddd, The Swear, Dev from Lightspeed Champion, Amusement Parks On Fire, Popular Workshop, The Bobby McGees, Help She Can't Swim, Schla La La's, Infants - my little diary of gig reviews can be found here.
We got some nice reviews from the likes of Artrocker, an NME mention, we were played on Xfm a couple of times by John Kennedy and we recorded and self-released a couple of EPs - Wendy Wack and Pring, and then after we split up in 2007 we put these all together into an album which you can download for free here.




You can still visit our little web site in WolfieLand here - which I have to say was well ahead of it's time! I had an amazing time in Wolfie, and as the web site says: "Wolfie are hibernating, maybe not for ever, but you never know...".
Since Wolfie, Gemma has played bass in the band Kasms, before going on to sing in the band Trogons. Cesca sang and played in Get Crucial, and Ilana launched a solo project Xup in which I was lucky enough to later play live drums.
Stream or download the Wolfie album on Bandcamp.
2006-2009: Fanfarlo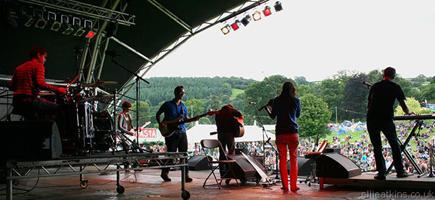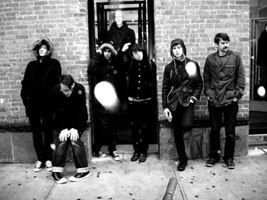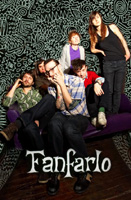 The years I played in the band Fanfarlo were good times! I joined in 2006 back when there was only Simon, Justin and Leon in the band, having known Justin via White Heat club. We played with a drum machine for the first few gigs until Amos joined on drums, fresh from being the drummer for Darren Hayman. We worked on Simon's songs and were offered increasingly good gigs. In 2007 Cathy joined the band after we saw her play with My Sad Captains at White Heat.
We had a few singles released on Fortuna Pop, Fandango, White Heat Records and Felt Tip Records and our manager Sarah and booking agent Tasha managed to get us some pretty great gigs, at Primavera in Barcelona, Green Man festival (on the main stage), Truck festival, Dot To Dot, Camden Crawl, End Of The Road festival, Lounge On The Farm. We also played at 229 in London supporting Tunng, and weirdly when I went back there a couple of years later there was a framed photo of me playing on the wall, very weird! We also got some good radio slots - we played live sessions for BBC Radio 1, Xfm, BBC Radio 6 Music and we even played on BBC Radio 4 on the 'Loose Ends' programme. These involved going to Broadcasting House to play and going to Maida Vale Studios, which was incredible.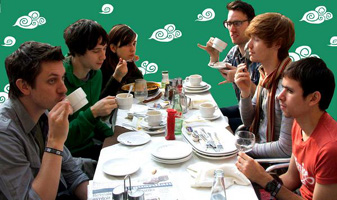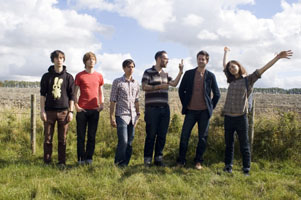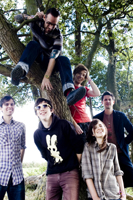 In 2008 we signed up with Big Dipper management who also manage Sigur Ros - one of my all time favourite bands. We never quite got to support them while I was in the band though we came close and got to meet them a load of times, at their gigs in London and at festivals like Lattitude, where they headlined and we also played on the main stage earlier in the day, which is probably the biggest stage I have ever played on. We also played in Norway, Sweden, Italy (on a tour arranged by the brilliant and wonderful band A Classic Education) Portugal, Spain, Mallorca, The Netherlands, France at various festivals, plus another highlight for me was playing on the BBC Introducing stage at Glastonbury 2008.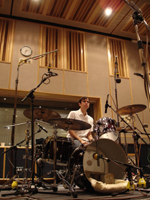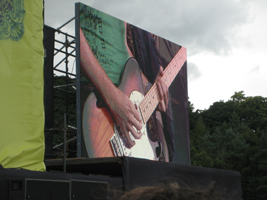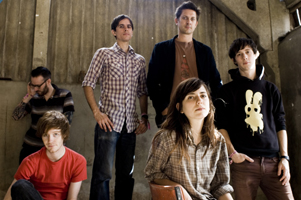 We also took a few trips to America - one was for the SXSW festival where we played some gigs, recorded some sessions, did some interviews and had a great time. At one point we were backstage with just us and Duffy but weren't brave enough to say hi to her. Some of my diary entries are here on the Fanfarlo web site. Our main trip to the USA though was to record the debut Fanfarlo album 'Reservoir'. We went and stayed in Connecticut in the (huge) house and studio of Peter Katis for a month and recorded on the week days and took trips into New York at the weekends. We met some great people and recorded a great album. I wrote a pretty detailed blog about it which you can read here on the Fanfarlo myspace (back in the myspace days!) or also by clicking here.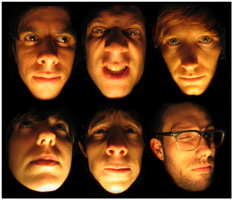 While we were recording the album however it became clear that Simon and I had what can accurately be described as 'musical differences' (a term which I hadn't really understood before then!). Sadly, I left the band just before the album was released, and since then Fanfarlo have continued to do well and have now recorded a second album. I had an amazing time in the band though, and loads of amazing opportunities and experiences - good times! You can see what they're up to and buy our album from www.fanfarlo.com.
2011 - 2012: Knickers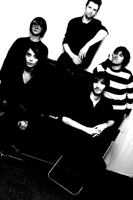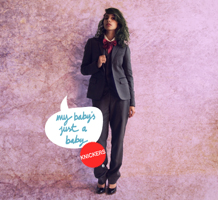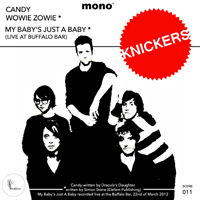 Via a friend of a friend I met Simon Love (formerly of The Loves) and via means I can no longer remember I ended up playing hammond organ on what I think was technically their last single, 'Motherfuckers' as a double A side 7" vinyl. Later on, during a drunken night at The Lexington, Simon asked me to join a band he was starting called Knickers - 60's-influenced pop, with a French vocalist he had advertised for ("French girl wanted") called Sarah. She was a fantastic singer and the tracke we recorded were pretty great.
We recorded an EP for Elefant along with a number of singles, covers and one-off tracks, and 'My Baby's Just A Baby' was taken up by Marc Riley (who I had a nice chat with via email while sending him more of our tracks - such a nice guy!) who played it quite a few times on his BBC Radio 6Music show.
Sarah left the band after a while to start her own more electronic band, and eventually Simon, Dan, Jonny and I were reborn as Simon Love And The Old Romantics.

My Baby's Just A Baby EP (4 tracks)


Baby It's You single and b-side Les Cactus


Some alternate versions on Bandcamp