Illustration : 2020 Lockdown megadoodle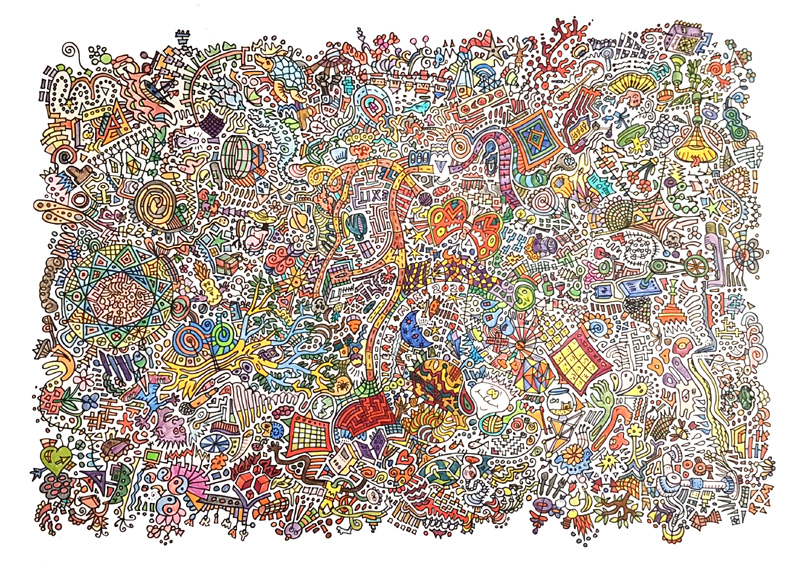 Click to enlarge
2020 lockdown project - with colouring by Reamika West!
Sculpture : Dragon
A dragon's head made for the Rumpus clubnight, breathing fire and smoke into the audience. Smoke and lighting thanks to Lucynation. The dragon was made from card, drawn on with marker pen and suspended from the ceiling. A flame-effect light lights up smoke from a smoke machine.
Illustration : Alice In Wonderland and Through The Looking Glass poster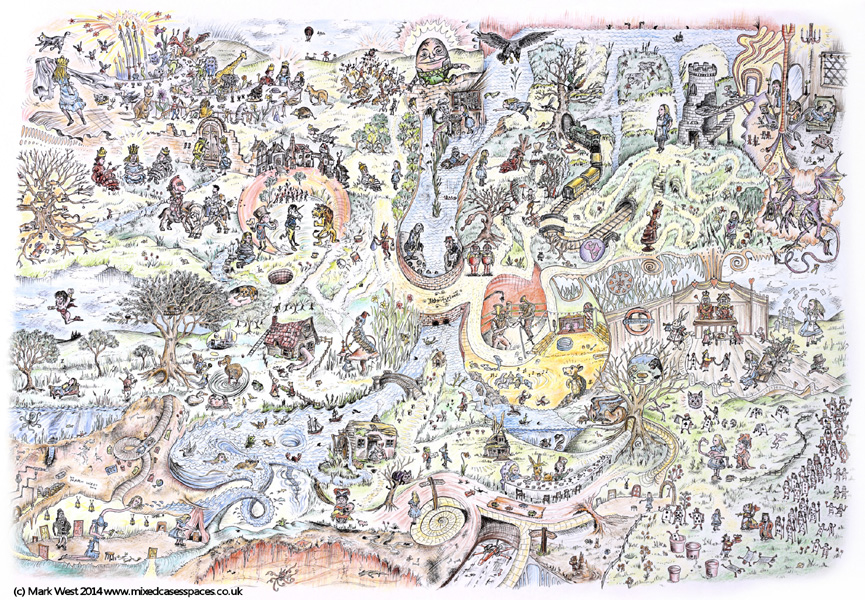 Click to enlarge
Drawn in four stages and used as a poster in additon to four tiled flyers for the Wonderland club night. The poster shows the full story of Alice In Wonderland, with every chapter in order, moving from the bottom left corner to the bottom right - and then Through The Looking glass going from top right to top left. Every character mentioned in the books are represented, and the chess-board hidden layout of Alice's movements in Through The Looking Glass is accurately represented!
Sculpture : Advice From A Caterpillar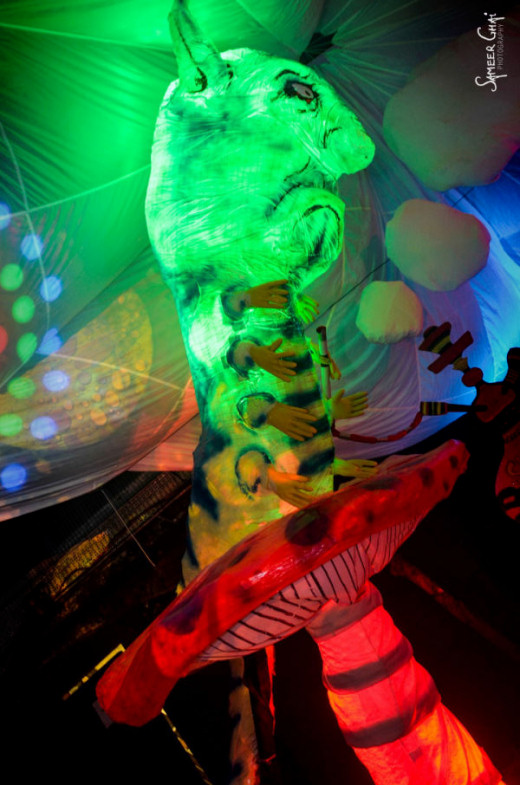 Click to enlarge
A 3 meter high sculpture made from wood, wire mesh and plastic, of a caterpillar on a giant mushroom, used on stage at the Wonderland club night. Lights inside the sculpture allowed him to change colour throughout the night. Projected beside the caterpillar, onto three smoke bubble projection screens were words of wisdom - changing throughout the night as people submitted their own words.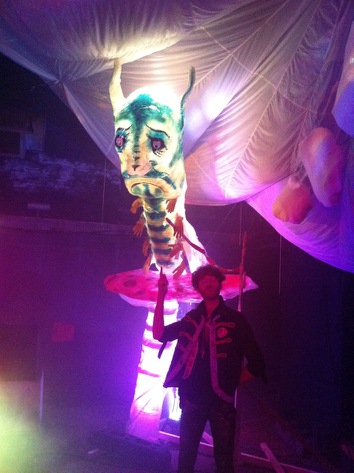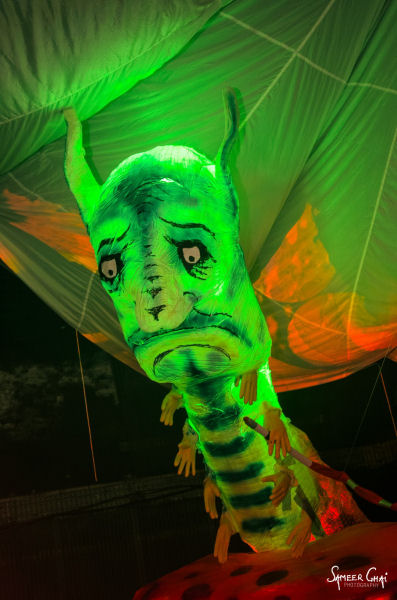 Illustration : Snail T-shirt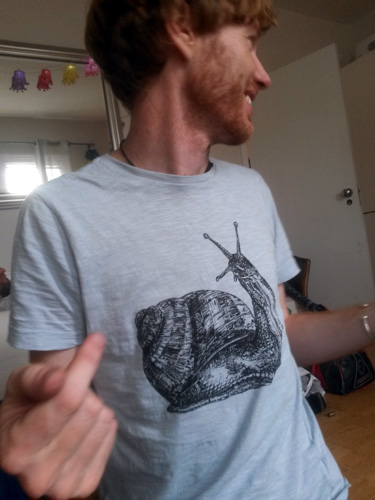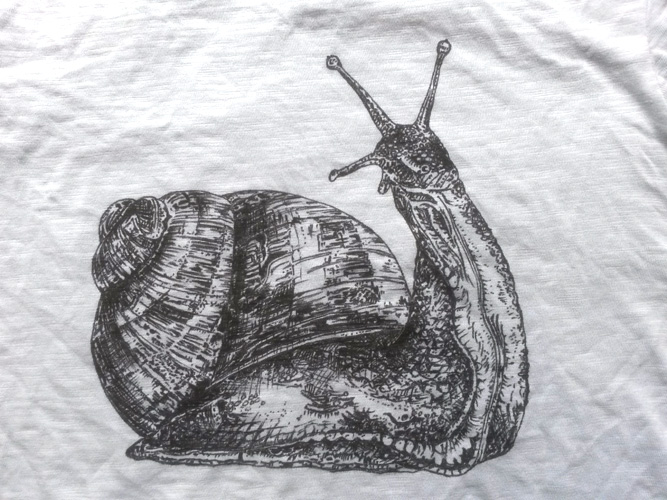 Drawing of a snail with waterproof pen, directly onto a t-shirt.
Sculpture : Clock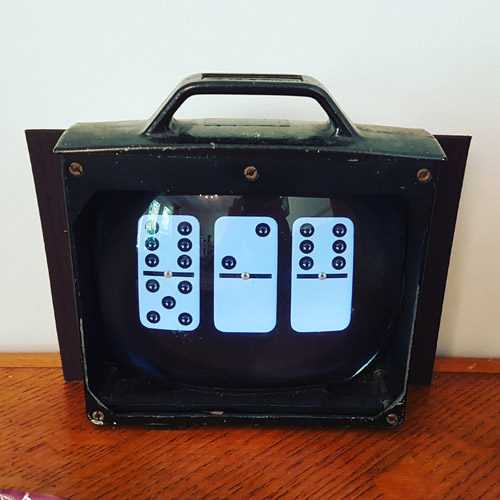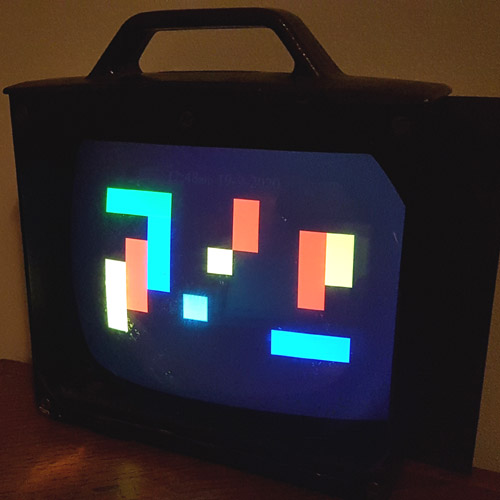 A digital clock with various modes (which change automatically and randomly each day) including dominoes, playing cards, cacti and neon bulbs - displaying the time in the form hour:min(tens):min(units). The clock is made from an old magnifying lens in front of an old ipad, which permanently shows the website I've built to display the images. If you want to make your own version you can! Just point your ipad at http://www.mixedcasesspaces.co.uk/clock/ - it might also work on an old phone, although you might need to zoom the screen to fit ok.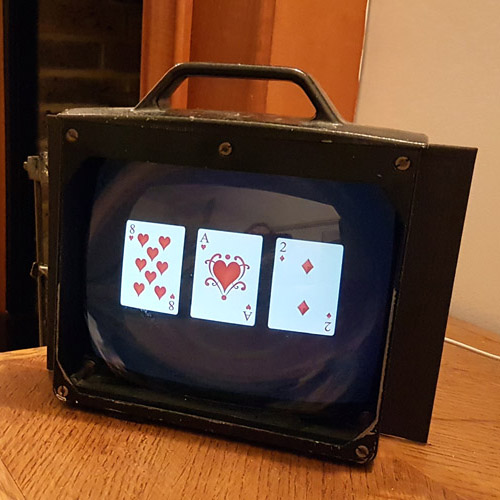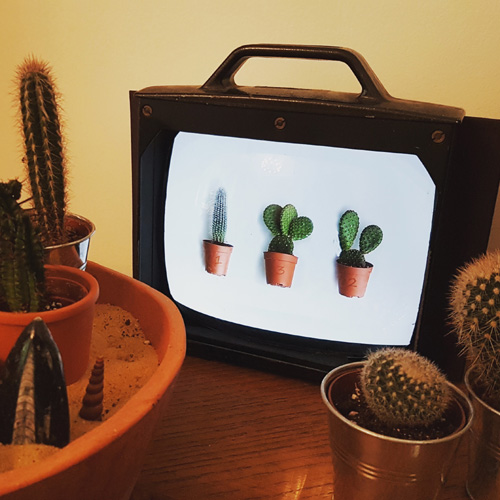 I recently added a blue-light filter too - between 8pm and 10pm the screen darkens and becomes more red. The cactus mode is a new one too, I add a new mode every now and again, although the dominoes mode is the classic.
Illustration : LeeFest 2013 programme map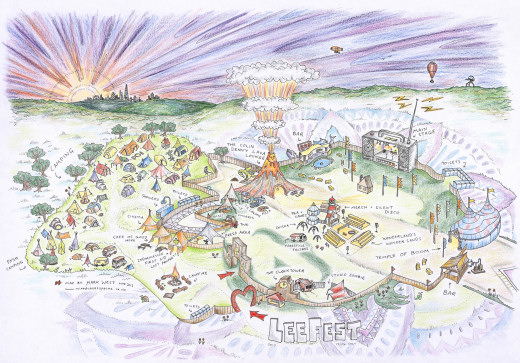 Click to enlarge
One of a series of festival maps I drew for Leefest, with the correct layout of the festival mixed in with a few magical elements.
Illustration : Sleeping (Dod Procter)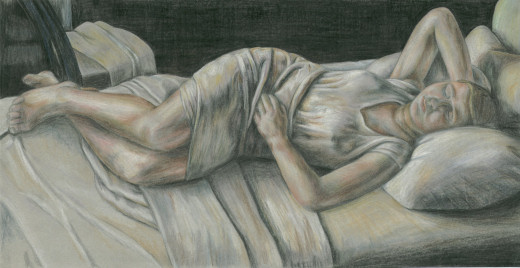 Click to enlarge
Pencil on paper - a study of the original artwork by Dod Procter.